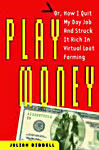 I started reading Julian Dibbell's "Play Money" blog back in 2003, probably as a result of a pointer from Edge magazine. It was a chronicle of his attempt to make real money from his trading activities in a virtual world–primarily the on-line role-playing game Ultima Online. He had originally set himself the challenge of making more money from trading than from his work as a writer, but he adjusted his goals downwards as the year progressed. He concluded his experiment in April 2004, and in his final month of trading managed to clear just under $4,000 in profit. That's 4,000 real-world dollars.
In fact, this kind of money isn't even unusual these days: Second Life now boasts its first millionaire (with a few caveats). The more interesting matter is how it is possible to make money in a virtual world at all. If you're not plugged into the buzz surrounding them, it's easy to see Second Life as an overgrown chat room, and World of Warcraft and its ilk as mere hack-and-slash fantasy games. Sure, the people who run the worlds can make money by charging monthly subscriptions, but how do the participants do it?
In simple terms, people are willing to pay to acquire goods they don't have enough time (or skills) to build themselves. It's just that in the case of virtual worlds, the goods have no physical substance. But that doesn't make them any less real to the people who use them day in, day out in these electronic communities.
With his Play Money book, Julian Dibbell provides the background behind the blog. It's uncomfortable reading in places. His game time and trading become an obsession, and although he says that they weren't the cause of it, they certainly weren't helping out when his marriage started to break up. But as well as the personal aspects, he also digs deeper into the economics of virtual worlds, and the sometimes cut-throat businesses that are growing up to service the demands of their inhabitants.
I have to admit to being endlessly fascinated by this, and the issues that flow from it. For example, there are figures that suggest that the average inhabitant of Second Life consumes roughly much power as a Brazilian. These numbers are heavily debated, but the fact is that a virtual person has a carbon footprint–a measurable effect–in the real world. And of course, as soon as real money starts to flow, the tax man is not far behind.
Beyond these immediate implications, there are also some enormous long-term issues to consider. Some of these worlds have millions of inhabitants. The people there are building houses, forming communities, participating in great deeds, and creating distinct cultures. What happens when the next big thing comes along, and people start to jump ship? What happens to the remnants of these civilizations? Is it important from a cultural and anthropological perspective to preserve what we can of these worlds?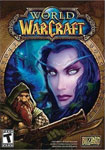 The biggest online worlds may seem well-developed compared to their predecessors, but they are in still in their infancy with regard to user interaction and freedom of action. Despite being larger than any MMORPG before it, it is likely that World of Warcraft will have its number one spot taken from it by something bigger and better. But it's possible that it, or one of the many others out there will stay ahead of the fickle curve of consumer demand, and will grow and evolve over the course of years and even decades.
And this is really interesting. Virtual worlds aren't going away, and they are only going to get bigger and more populous. Business are opening offices in Second Life. If you catch the right world, and make the right investments (my guess would be virtual real estate), you may find yourself owning a tremendously valuable piece of some future metropolis.
I have created an avatar in Second Life, but I haven't done much with him. I have a copy of WoW sitting on my desk, but I haven't signed up for an account yet. Self-knowledge tells me that I could quite easily spend an unhealthy amount of time in these worlds, and right now I'm finding little enough time in my life for sleep as it is. But I also know that I immensely enjoy the total immersion of a good RPG, and despite the poor experience I had with Everquest a few years ago, I can see myself dipping my toes in the water again fairly soon. The possibilities are just too intriguing to ignore.