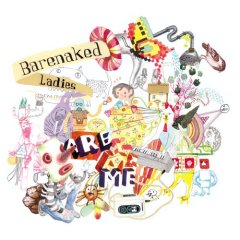 I saw the Barenaked Ladies in concert in Edinburgh back in 2001 on their Maroon tour, just a week before Alex was born. They rocked.
Since then, they've been back in the UK twice, in April and November of 2004. I missed the April gigs because their management failed to send out any kind of email notification to their mailing list subscribers that they were playing. I missed them in November because their tour coincided with our trip to California that year.
So, their latest newsletter (dated 19th October, but sent out on the 21st; to be fair, the newsletters are not managed by the band themselves, so they get a bye on this one) drops into my mailbox, and what does it say?
First of all, that tickets for their UK tour went on sale last Monday. To which I say: thanks for the early warning, guys. The newsletters have been pimping their North American tour for months, with special advance booking codes for fan club members, in plenty of time before the tickets actually went up for sale. Not so for the UK. If the BNL were an immediate sell-out band there'd be holes in the ceiling just from where I exploded out of my chair. As it is, I'm just moderately pissed off.
Secondly, the UK tour dates run from Wednesday 28th March 2007 to Tuesday 10th April. With a gig at the Carling Academy in Glasgow on the 8th. Yay!
But…wait.
When were we planning our trip to California next year? (Checks calendar)
No. It can't be. It just can't be that I'll miss the entire UK leg of their first UK tour in three years, can it?
COCK