I saw 78 films in 2005. Not quite the 100 I managed to catch in 2004, but still a respectable haul. However, the average rating I handed out was 3.06, which is quite significantly down from 3.23 last year. I said I needed to watch more rubbish in order to fine-tune my critical senses, and I think I've achieved that goal. There were some stinkers this year–three that didn't even warrant a full star, as opposed to only one in 2004:
Yuck, yuck, yuck.
Also, I only found 9 films that were worth more than 4 stars, compared to 14 in 2004:
So overall, I'd say it's been no more than an okay year for films. I haven't made as much use of my Screenselect membership (DVDs by post) as I thought I would–probably because I haven't been paying much attention to my movie queue. As a result, I've been getting a lot of films which I'd added to my queue because of a vague inkling of a fancy, rather than because I actively wanted to see them. I think I need to spend some time just removing a bunch of titles from the 200-odd long list I've built up, and concentrate on picking up on some of the films I missed in the cinema throughout 2005.
Here's the full chart.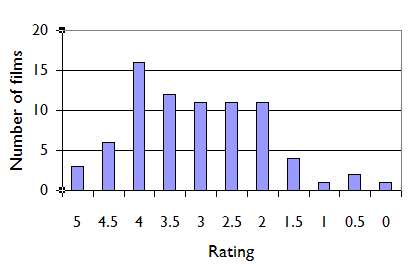 So what would I pick as my top films of the year? Actually, the list above comes pretty close. Removing Adaptation and Pieces Of April because they are from previous years (and remember that although The Aviator was up at the Oscars at the beginning of this year, it didn't get a UK release until January of 2005), my list is as follows: