Around Christmas last year I put together a CD to represent what I'd been listening to a lot in 2004. It didn't consist just of my absolute favourite tracks of the year–instead, I wanted a slice of them that fit together nicely as a compilation. I've done the same this year, and taking a leaf out of Alan's book, here they are with a bit of commentary. (Note that not all of the tracks are actually from 2005, but they are all tracks that I heard for the first time this year.)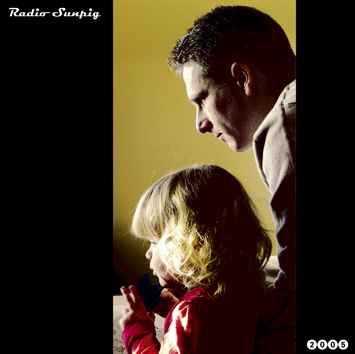 Ash – Orpheus

Ever since I bought Ash's CD Meltdown, I knew this song would make a fantastic opener for whatever compilation CD I chose to make for 2005. It's so full of energy and sunshine that I can't help smile every time I hear it. It puts the bounce back in my step whenever I'm feeling down.
Foo Fighters – No Way Back

In Your Honor has so many great rock songs on it, but No Way Back meshes well with the opener by Ash: hard and bright, and full of energy.
Editors – Bullets

Ignore the lyrics, and just feel the way every aspect of the composition pounds the song forward. The insistent drums, the looping vocals, the crashing guitars, and the battering bass–pure magic.
Sondre Lerche – Virtue and Wine

I have no idea what this song is about, but I love its musical richness–the way that every millisecond is filled with layer upon layer of textures and mini-melodies. That, and the killer drums that start off jazzy and end up in a crazy, perpetual solo. Keith told me that Faces Down was a better album than Two-Way Monologue, and he was right.
Jason Falkner – Afraid Himself To Be

I'm a great lover of rhythm, and there's a particular vocal technique that gives me a great thrill: it's when the singer lays down a clear beat with their voice that hits a subtly different rhythm than the main melody. The chorus here pushes that button for me. Have a listen for the part that starts, "One-thing-I-know-is-true…", which is where Jason Falkner's voice takes the lead, and everything else just follows. This is another find I owe to Keith
System Of A Down – Radio, Video

Speed metal polka. How can you not love that? Brilliant insanity.
Glen Phillips – Finally Fading

I love pretty much anything Glen Phillips does. This song is him in full power-pop mode, and it just sounds great.
Athlete – Tourist

The album has its ups and downs, I liked the melancholy loneliness of this title track.
Imogen Heap – Hide And Seek

Rarely does a song have the power to completely knock the wind out of me on a first listen, but this one did it. I vividly remember exactly where I was (just passing Dreghorn junction on the Edinburgh bypass) when I first heard it, and I practically had to pull of the road to listen to it properly. It still gives me goosebumps. It's not a style of music I listen to much, and I was a bit wary about buying the album (Speak For Yourself) in case it was all like this, and the rest of the songs didn't match up. The reality turns out to be a fantastic electro-pop disc that has turned into one of my favourites of the year.
Queens Of The Stone Age – Broken Box

I liked Lullabies To Paralyze a lot, but I don't think that I really grew to love it. Broken Box is one of the easier tracks to listen to. It has a strong backbone on which to mount its curious diversions.
Danger Doom – Old School

I came to Danger Doom via Gorillaz–Danger Mouse co-produced their album Demon Days, and MF Doom raps on the track "November Has Come". Danger Doom is a collaboration between Doom and Danger Mouse. There's a lot to like on the album (The Mouse and The Mask), but this track is my favourite: fun and funky, and exactly as old school as the title suggests.
Gorillaz – Feel Good Inc.

Didn't like this when I first heard it. I was wrong. It's awesome.
Charlotte Hatherley – Bastardo

Mad props to anyone who can put the phrase "two-faced lothario" into a catchy power-pop chorus. "Bastardo" is a twisted love story about a girl, a boy, and a guitar. Charlotte Hatherley (guitarist for Ash) is the queen of the "ooh-ooh" backing vocal, and "Bastardo" shows off these talents as much as it does her songwriting skills.
Maximo Park – Going Missing
From one of my favourite albums of the year (A Certain Trigger) comes an achingly beautiful post-punk anthem about longing, loneliness and desperation.
Snow Patrol – Spitting Games
I love Gary Lightbody's lazy, rounded vocals. When they're wrapped around a fast pop-rock belter like this one, sparks fly.
Imogen Heap – Daylight Robbery
Another song from Imogen Heap, this one a massive electro-pop-rock mash-up, complete with bips and bleeps, synthesizer-mangled vocals, and burning electric guitars. Love it.
Glen Phillips – Courage
Glen Phillips again, this time with a gorgeous ballad full of hope and persistence.
Sondre Lerche – On And Off Again
As before, even though I know the lyrics by heart, I have no idea what Sondre Lerche is singing about. But he does it with such emotion, and such a beautiful arrangement that this song regularly gives me a lump in my throat.
Foo Fighters – Cold Day In The Sun
The most surprising song from In Your Honor. Light and airy, with a touch of Hammond organ in the background, it sounds like a sunny day in the summer.
Robert Downey, Jr – Broken
This is the song that plays over the end credits of the film Kiss Kiss, Bang Bang. It caught my attention, and I thought it was Dave Matthews until the music credits came up. Wow. This track is from his album The Futurist, and its laid back groove provides a perfect ending for the compilation.