New iMac, with built-in iSight camera, media centre features, and a remote control. Yum.
iTunes 6, with video store. Buy music videos, films, and TV shows–presumably all at an iPod-appropriate resolution (320 x 240). (Can it rip DVDs, though, is the big question? I'm in the process of installing now to find out…) Whatever–yum.
New iPods WITH VIDEO. 30GB and 60GB models. YUM YUM YUM.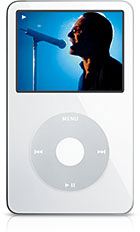 I've had my Mac Mini for a month now, and I'm liking it enough to say that I could definitely see myself buying another Mac in the future. But the iPod video? HOLY CRAP I WANT ONE NOW.
(Probably not, though, with my birthday and Christmas not too far away. Hi, Abi! I love you honey!)
Updates 12 Oct at 20:57 :
It looks like the UK iTunes Music Store is lagging somewhat behind the US one…the selection of music videos on offer for purchase is slim, and there appear to be no TV shows on offer–yet.
Music videos also appear to be more expensive in the UK vis-a-vis the American store, as compared to music tracks. (£1.89 / $1.99 for a music video as opposed to £0.79 / $0.99 for a song.)
You need Quicktime 7.0.3 to play purchased tracks, but Apple hasn't made this available from their Software Update site yet. (It's there now.)
I can't see any option to rip DVD movies directly into iTunes, and thence onto the iPod. (Maybe this will be available with QT 7.0.3? Or will you need something like Quicktime Pro to do the encoding? Hmm. Seems like they're missing an integration trick here.)