There are some things you really don't want to hear your three-year-old son say to you over the phone when you're on holiday three thousand miles away, and your parents are graciously taking care of the roost for a few days. "Poopy can fly!" is high up on that list.
Fortunately, this isn't nearly as bad as it sounds. Alex loves playing Super Smash Bros. Melee on the Gamecube, and "Poopy" is just what he calls "Kirby", one of the characters in the game. (If we correct him, he'll say the name correctly a few times, and then revert to Poopy. I wonder if Kirby's pink, blob-like appearance has anything to do with it…and then I wonder what they're feeding him at nursery.)
Apart from that minor heart-stopper, we had a fantastic time on holiday in Boston. We flew out on Thursday, and came back Sunday overnight. While we were there we shopped a lot, walked a lot, ate a lot, and lost sensation in our faces on several occasions. (Early mornings are cold.) On Friday morning we unwittingly walked into the middle of Filene's Bridal Gown sale. Then while Abi was shopping for paper in the afternoon, she found herself chatting to a member of staff who had, by stunning coincidence, just visited her bookbinding site just the previous evening. And this was just minutes before we met up with Keith Martin for hot drinks and a wander through Harvard…proof, if we needed it, that the world is definitely getting smaller.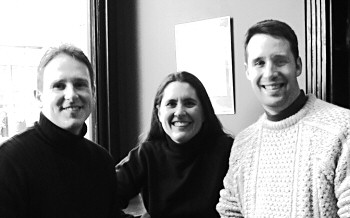 Keith and I might have met two years ago at a Toad the Wet Sprocket gig, but we didn't connect until afterwards, and we've been keeping an eye on each other's blogs since then. It was great to see him in person at last, even if he did forget to wear black.
The rest of the weekend was relaxed and relaxing. It was lovely to be able to wake up early in the morning, and not have to rush up to handle the kids. On the other hand, we missed them a lot. Every time we'd see a parent walk by with a toddler or a baby we'd squeeze each other's hand and smile and wish (momentarily) that we had Alex and Fiona with us. Then the moment would pass, and we'd realise that we were FREE FREE NO MORE NAPPIES AND POINTLESS TANTRUMS FOR A FEW DAYS WOOHOO.
It was a good weekend.