Abi and I were down at the Plumed Horse restaurant in Crossmichael yesterday, for a last short break before the new baby arrives (due in less than two weeks now). It's a pity that our favourite restaurant in the whole of Scotland is about two hours' drive away, but oh! the food!
I started with a smoked haddock and spinach quiche, with a roast scallop, and lemon dressing. My main course was fish again: fillet of brill, with crab mashed potatoes, a shrimp and scallop fishcake, and shellfish sauce. For dessert Abi and I both had the dark chocolate soufflé with apricot sorbet. The horse's head emblem in the plate is actually a stencilled dusting of cocoa–a lovely little touch.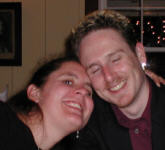 The souffl&eacute reminded us of the other Plumed Horse restaurant, the one in Saratoga, California, where we enjoyed a fabulous meal at the end of 2000. We had dark chocolate soufflé for dessert then, too, with a dark chocolate sauce to go over it. Abi was pregnant with Alex at the time, though not quite as far advanced as she is now. And just as on our trips to the Scottish Plumed Horse, it was a two hour drive away, only then it was from Oakland down into the South Bay. We had Abi's parents with us then, and Mick and Sarah, who had managed to stash young Thomas somewhere for the evening.
It's an odd coincidence that the two Plumed Horse restaurants are located just where they are, and that they have become so closely associated with family, and particularly baby events. It means that it's not just our stomachs, but also our hearts that keep drawing us back there.