Our last day in Boston, Monday, was one of the coldest days I can remember. The basic temperature was about -8C, with a wind chill that took another seven or eight degrees of that. It was beyond cold and well into actively painful.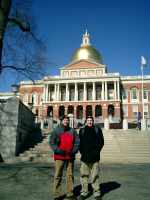 We didn't end up doing much. We had a breakfast of donuts, and then hopped from shop to shop in Downtown Crossing, trying to stay just slightly warm. In an attempt to show that we're not completely dead to history and culture, we also did a tour of the Massachusetts State House. We finished our time in the city with a late lunch at Quincy Market, and a beer at the "Cheers" bar there.
Overall, we had a great time. Boston is a lovely city. With its narrow streets and brick facades it feels European in places. The shopping is pretty good, even in the shops are almost the same as everywhere else: Gap, Clare's Accessories, Borders, Macys, Banana Republic, etc. That struck me as soon as we arrived there. Globalisation is smoothing out the worldwide retail experience. I don't think this is a good thing. I like going places and being able to find stuff I can't get anywhere else. Sure, the market stalls in Quincy and Faneuil Hall sell localised merchandise, but you know you'll be able to find t-shirts, sweaters, baseball caps, cheap jewelry and miscellaneous other souvenir goods. It's not the same. (Rome, on the other hand, is completely different. One of the many reasons we love it so much.)
The pubs in Boston are really nice. We visited four, and they were all friendly and atmospheric. The beer is really expensive, though. On Saturday afternoon we paid $12.50 for a pint of Guinness and a pint of Sam Adams. Admittedly, this was in a tourist-friendly pub just round the corner from Faneuil Hall, but the prices elsewhere weren't too far off this, either. And, as we found out on Sunday on our way back to the hotel (soaking wet from the pouring rain), you can't buy beer on a Sunday. We'd hoped to take in a couple of brewskis and watch the golf, but we ended up with Diet Coke instead. We did go out to a smashing bar (The Marshall House) later in the evening for a meal. I had lobster–yum!
So, was the trip worth it? Definitely yes. Would I do it again? Hmm. I really missed Abi and Alex. But if I could have them with me, then I'd be well up for a return visit.