The relief I'm feeling right now is almost indescribable. I've got my data back!
It wasn't as a result of sticking the hard disk in the fridge for the afternoon, as suggested by The Register. Nor did I have to shell out £1040, as quoted by The Data Clinic, who specialise in recovering data from this particular batch of Fujitsu drives. (Mine was a MPG3409AT, 40GB.)
No, the (free!) fix came courtesy of a very kind Australian gentleman, who had posted a message on a newsgroup thread discussing this very problem. He had also suffered from a disk failure. But when he was in touch with Fujitsu Australia, they sent him a piece of software they use internally for recovering these drives. It's a bootable disk with a rescue program on it. He forwarded it to me, I ran it, and…my PC recognized the disk again.
But not for very long, though. I've just spent the last two hours or so racing against the clock to get all of my data off of the disk before it died on me again. The rescue program had worked once, but I had no intention of relying on it to work a second time!
But yes, I was able to grab everything I thought I had lost: most importantly the photos we'd taken and downloaded onto the disk in the last two months. To celebrate, below is one of the pictures we thought we'd lost. It's one of Alex looking moody on our day trip to Glasgow two weeks ago. It's a beautiful photo, and I am simply filled with joy that we still have it.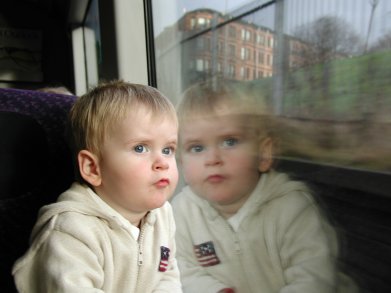 To my benefactor in Australia, "thank you" doesn't say it strongly enough, but it's all I can do on a simple web page. Thank you!
See also: