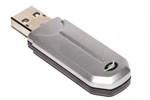 For some time now, it has been technically possible to offer concert-goers the option to buy a CD of a gig almost immediately after it has ended. I wrote about this back in 2003. The technology isn't particularly widespread, at least partly due to patents and licensing issues surrounding it, but services like Instant Live (part of Live Nation, a spin-off of Clear Channel, who pioneered the technology) and DiscLive show that it's definitely happening.
It looks like the next leap step for the technology is to sell the concert recording not on CDs, but on a USB stick. From the Barenaked Ladies blog:
These days people need their music fast. Rather than waiting a whole day to download the show from our website, you can now take part in our latest high-tech experiment (no, this doesn't include lysergic acid or agent orange), by purchasing that evening's show AT THE SHOW. Just go to the merch booth and ask to buy the USB version of tonight's show, they'll sell you a wristband, and at the end of the evening, you can come back to the table and pick up a fresh baked USB stick with that evening's performance magically embedded in it. And we have t-shirts, too.
Very cool. It's not quite a download straight onto your iPod, but it's certainly moving in that direction.