Oh yes.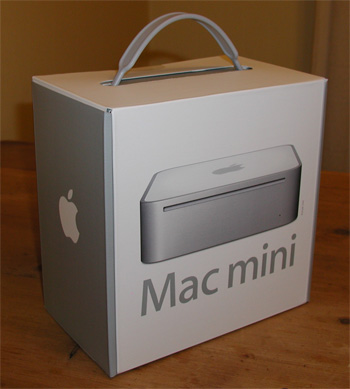 Update (late, late in the evening): Oh no.
What's good:
It works.
It's beautiful.
Q: whereis ruby? A: /usr/bin/ruby. Yum.
What's bad:
My shiny new 21″ flat panel monitor has died on me. Well, partly died. It's not accepting any signals over DVI any more, only VGA. Crap. Fortunately, it's still well within its warranty period.
The Mini isn't automatically detecting the monitor's native resolution of 1680 x 1050, and I don't know enough about OS X to change the resolution to something non-standard. So I'm running in crappy 1400 x 1050 fuzz-o-vision right now.
Actually, I don't know enough about OS X, period. (How does this dock thing really work? What's the right way to install applications?) Anyone with Mac experience care to recommend a decent book?
I got myself a new Apple Pro keyboard aaaaand….mmmm…not convinced yet. I like the keyboard action, but I don't like not having anythere to rest my right hand's fingers nearby the arrow keys without them getting caught in the grooves.
And what the hell's up with putting the @ sign over the number 2 key? Yuck. (Again, anyone with Mac experience…please point me in the direction of a keyboard remapping utility.)
And the mental gymnastics of getting used to a different set of command keys… Yurkle.