I think I need to set more challenging objectives for my lunchtime walks. I found two of the three madrones (Arbutus menziesii) on the first day of searching. The hunt did take me into a bed that I hadn't wandered through before, but actually, one of the madrones is visible from the road outside the gardens.
Anyway, the proof:
Taken 13 December 2005
One of the reasons I like madrone so much is its papery bark. On the younger branches, it peels off in entire sheets, exposing the green underbark. On older wood, it alligators like a charred log, which is much less dramatic.
Taken 13 December 2005
The thirteenth was an overcast day, which made it difficult to take photos in natural light (I don't use the camera's light). The ones I got were either against the sky (this one has been lightened considerably to bring out the red in the leaves),
.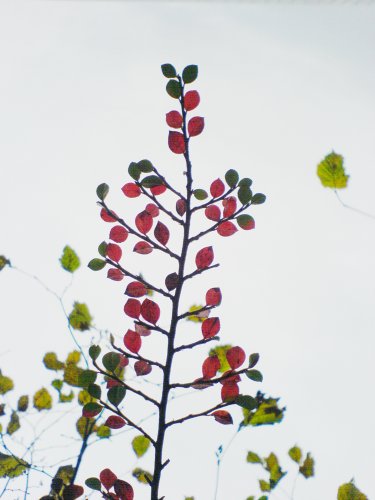 Taken 13 December 2005
…or lucky shots, still enough not to blur but slow enough to get the tremendous colour saturation that comes from overcast day photography.
Taken 13 December 2005
I will have to pick a more evasive plant for my next quest.