This weekend Abi and I abandoned the kids again and headed off for a short break. We stayed at the Van der Valk Hotel Cuijk and had a wonderfully relaxing time. I'm always impressed by how Van der Valk have industrialized their particular brand of hospitality. They do it so well.
Yesterday we wandered the outskirts of Cuijk in the afternoon, and then again in the dark after dinner. (We shared a smoked duck carpaccio and cranberry salad as a starter, and that's a dish I'll definitely be stealing for my own repertoire.) Today we drove through Molenhoek and the Mookerheide to the Duivelsberg (Devil Mountain) just outside the village of Beek on the German border. (It's only 75.9m above sea level, but that's quite a hill around these parts.)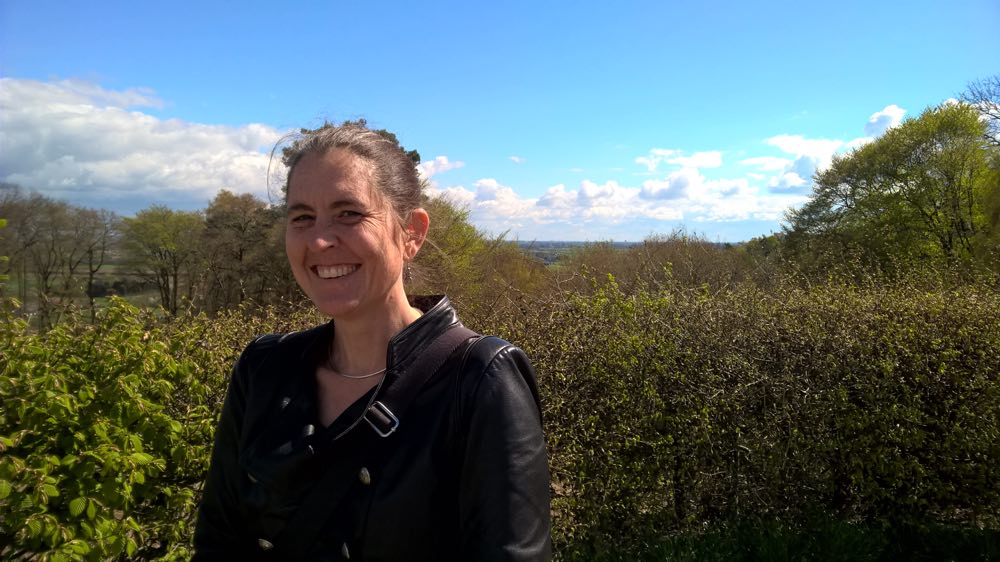 We followed the 3km Duivelsberg trail before lunch, which took us past the hill's summit. In medieval times it was the site of a medieval motte-and-bailey castle. In the Second World War the hill was fought over during Operation Market Garden. Now, it's a pleasant forest stroll.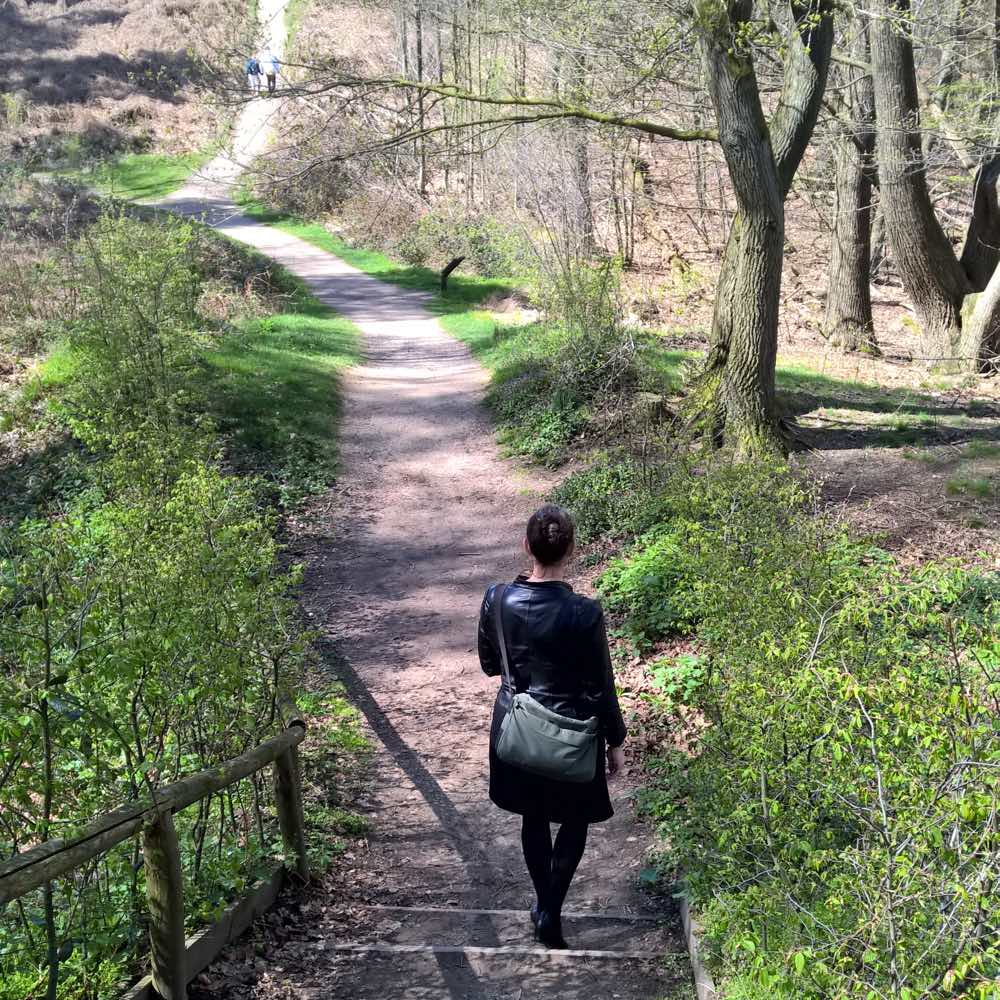 The Duivelsberg trail is a loop. We started out from the car park of the Duivelsberg restaurant. On the inbound leg, on some of the red markers for our trail, we started to see these plaques: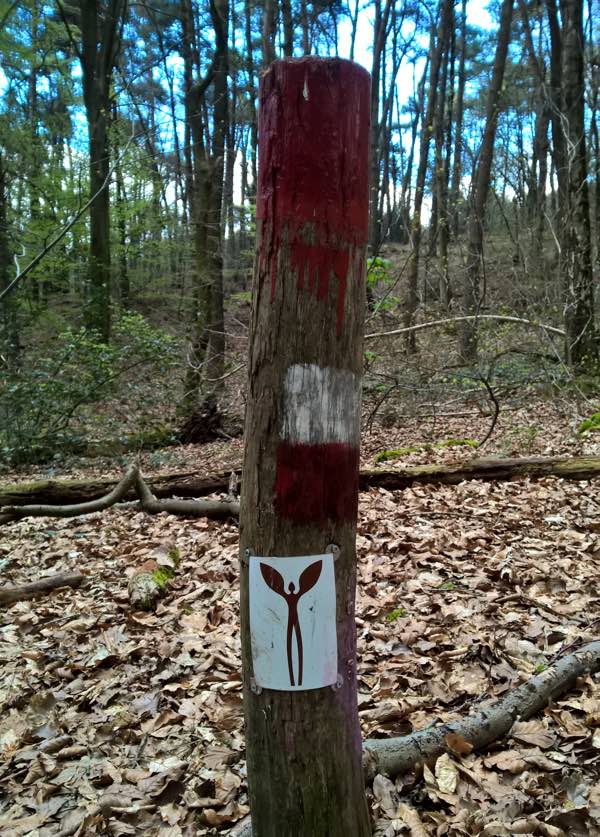 To me, it looked like a dude with flippers for hands. Abi wondered if it might be an oddly winged devil, or the Angel of Mosquitoes. Because this wasn't our first rodeo visit to the Dutch countryside, we automatically thought that the signs were going to lead us to an inscrutable piece of public art. We also speculated that they might be symbolic of the Duivelsberg restaurant. A tall guy with serving trays for hands?
Indeed, the trail led us right back there. The last plaque had an arrow that seemed to point straight into the restaurant's back garden, but the symbol was nowhere to be found on the building or its menus. Curious. We sat down for lunch and speculated. We tried a reverse image search, but it didn't produce anything. The other thing that kept our interest piqued was the fact that the plaques were directional. They only appeared on one side of the trail markers. They were trying to lead you one way, rather than in a loop like the other walking trails.
After lunch, we decided to follow the signs a bit further, to see if they led anywhere. We followed them for maybe a couple of kilometers: along the Grensroute trail at first, then over the Oude Kleefsebaan at the car park on the road, and into yet more muddy forests. It was a lovely walk, along some beautiful tree-lined and root-paved avenues, but we weren't getting the feeling there was an actual destination awaiting us. Eventually, it started to hail, and then to rain. We sheltered at the top of a hill, and then turned around. We figured that we'd decipher the mystery once we were warm and dry again, with access to more internet.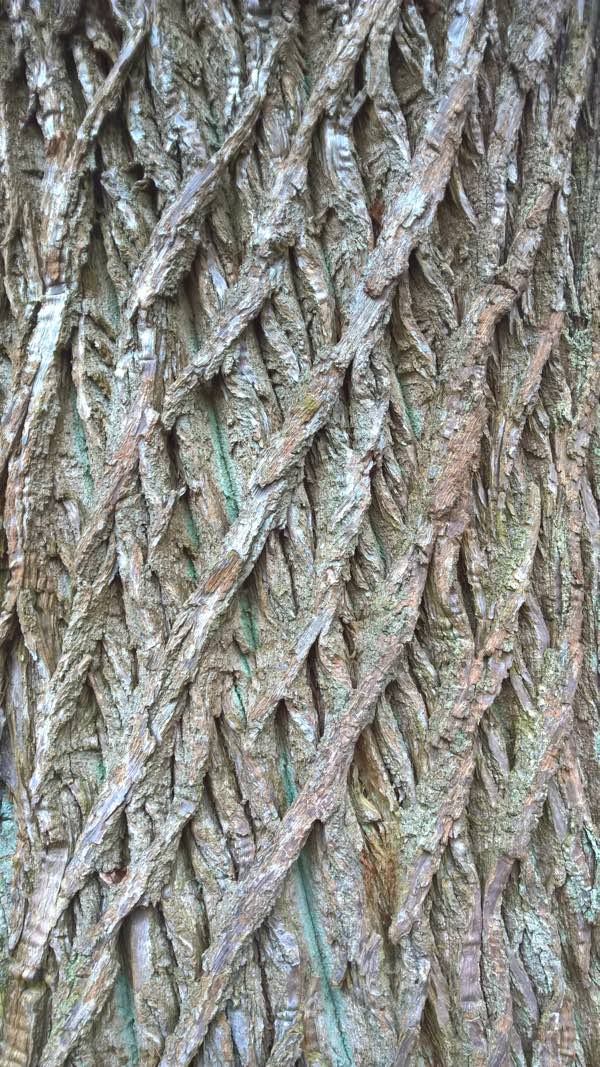 When we got back to the restaurant, the obvious thing to do was to stop and asked one of the staff if he knew what the plaques were for. He did. They're markers for the Walk of Wisdom, a 136km walking trail that loops around Nijmegen and surroundings. It opened in June of 2015, so it's brand new. The people behind it are trying to establish a new kind of secular pilgrimage tradition, with its own rituals and symbols. Pilgrims doing the whole route can buy a Walk of Wisdom badge (Sinister Paddle Man/Angel of Mosquitoes) to pin to their lapel or bag. They can also get a special leather thong, and buy commemorative bird rings in every village or town along the way to attach to it. Pilgrims are encouraged to take part in a "modern fast" by keeping their phones and devices turned off for as much as possible. The organisers hope that once the tradition gets bedded in, they can expand it to other locations around the world.
I'm a fan of big walks, but I'm not sure how I feel about this. Traditions generally rub me the wrong way, and this attempt to kick-start a bunch of new ones feels artificial. I hope people taking part enjoy the experience, but this afternoon I would have preferred a statue.