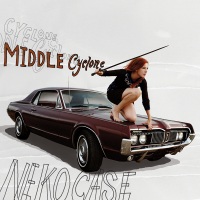 I was somewhat miffed when I discovered that Neko Case was playing Amsterdam in February this year by checking her web site a few days after the intended gig, and finding that she had had to cancel it because of an illness. On the one hand, I had missed seeing her; but on the other hand I would have missed seeing her anyway. Hmm.
Fortunately, her autumn tour brought her back to the Netherlands, where she played Paradiso on Saturday 19th September. Abi and I managed to wangle babysitting for the evening, so we could both go. It was a lovely Saturday, and we cycled in to town and had a burger at Burgermeester before the gig. We had a delightful evening, but as concerts go it wasn't that great.
Although Neko was in fine voice, she looked tired and unhappy. Kelly Hogan, the second vocalist in the band, did all the talking between songs, occasionally throwing a line to Neko only to be rebuffed with a shrug. It was only towards the end of the set, when the end was in sight, that she even cracked a smile and started to engage a little with the audience. I know that she had had to cancel at least one gig earlier this tour because of illness (Edinburgh), so it's possible she still wasn't feeling right. However, the overall vibe I got from the stage was aloof and reluctant, which was disappointing.
Having said that, the actual performance was good. Neko's voice is one of the modern wonders of the world, and Kelly Hogan's provides a great accompaniment. The band was clearly comfortable playing together, and Jon Rauhause, hunched in intense concentration over his banjo and steel guitar, was a special treat.
They played through most of the new album Middle Cyclone and a helping of favourites from earlier albums. "Maybe Sparrow" was a definite crowd-pleaser early on, but the songs from Blacklisted were the ones I liked best, with "I Wish I Was The Moon" in the middle of the set being my personal highlight. It seemed to me that "The Train From Kansas City" right at the very end was where the band really seemed to shake loose and enjoy themselves the most. It's just a pity that they didn't light up earlier on.

Set list:
Things That Scare Me (BL)
Maybe Sparrow (FCBTF)
People Got A Lotta Nerve (MC)
Fever (MC)
Hold On, Hold On (FCBTF)
I'm An Animal (MC)
Middle Cyclone (MC)
The Pharaohs (MC)
Margaret vs. Pauline (FCBTF)
Deep Red Bells (BL)
I Wish I Was The Moon (BL)
Polar Nettles (MC)
Red Tide (MC)
Prison Girls (MC)
The Tigers Have Spoken (TTHS)
Alimony (Harry Nilsson cover)
That Teenage Feeling (FCBTF)
This Tornado Loves You (MC)
Encore:
Vengeance Is Sleeping (MC)
Never Turn Your Back On Mother Earth (MC)
Train From Kansas City (TTHS)
MC = Middle Cyclone, FCBTF = Fox Confessor Brings The Flood, BL = Blacklisted, TTHS = The Tigers Have Spoken